I must have sangria on the brain!
This recipe recently caught my eye...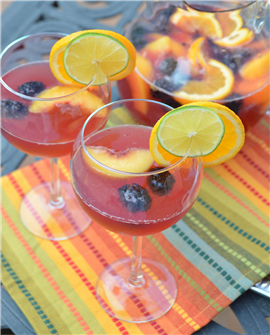 Mock Sangria
1 (12 ounce) can frozen white grape juice
1 (12 ounce) can frozen apple juice
1 (12 ounce) can frozen limeade
64 ounces cranberry juice, chilled
1 (2 liter) regular or diet lemon-lime soda, chilled
16 ounce bag frozen sliced peaches
12 ounce bag frozen blackberries
Orange
Lime
Mix frozen juices with cranberry juice in large container until dissolved. Add lemon-lime soda and frozen fruit. Slice orange and lime. Add half of orange to sangria. Garnish serving glass with remaining orange slices and lime. Makes approximately 1-1/2 gallons.
Well, now doesn't that taste like summer?
Have a delicious weekend, darlings.